精選產品
最新消息
展覽計畫
聯絡資訊
No.93 Zizhu Road, High-Tech Development Zone, Zhengzhou City, Henan, China
電話:86-371-55019379
傳真:--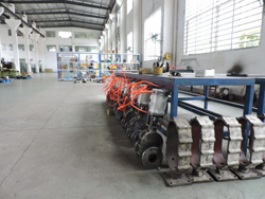 Zhengzhou Free Fluid Control Technology Co.,Ltd
Zhengzhou Free Fluid Control Technology Co.,Ltd is leader in the design valve and application of special industrial valves , we provide high quality industrial products for our customers all the time. First introduced ceramic engineer valve in the year 2008, FREE-VALVE'S have steadily proven their worth in tough industrial applications once thought to be solely the province of steel or ceramic valves. Today, as challenge traditional thinking in abrasive fluid applications, FREE-VALVES offer a wide rang of products:ceramic knife gate valve , ceramic double gate valve , rotating type ceramic gate valve , slurry valve ,tank bottom angle valve , V type ball valve, ball valve, butterfly valve,ceramic tile lined composite pipes etc . They have a wide application in coal washing plant ,power plant ,alumina refinery, steel plant,petro-chemical etc. Our valves have been exported to Pakistan ,Turkey ,United states ,Indonesia,Taiwan etc .
主要產品
ceramic valve,ballvalve,butterfly valve,gate valve,ceramic pipe,ceramic rotary disc gate valve,ceramic knife gate valve,cermaic double disc gate valve,tank bottom angle valve,slurry valve,full welding ball valve,
聯絡資訊
國  別:China 中國
地  址:No.93 Zizhu Road, High-Tech Development Zone, Zhengzhou City, Henan, China
電  話:86-371-55019379
傳  真:--
承辦人員:manager
產業類別:機械零組件 油壓與氣壓元件
公司形態:製造 外銷
提醒您去電洽詢時,煩請告知從【亞洲機械網】看到此訊息喔!